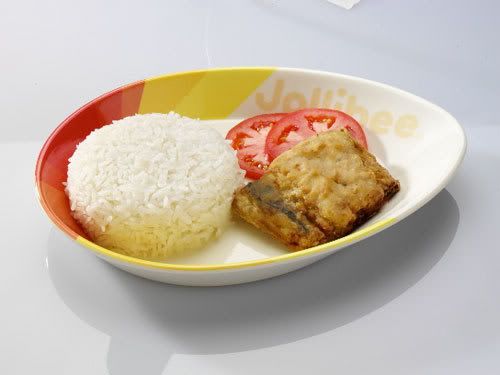 After Breakfast Crispy Bangus
Enjoy an exciting crispy bangus food tripping at Jollibee from morning to evening. This will surely be enjoyed by those who are looking for something unique in a fastfood chain. Each order of the crispy bangus contains lightly smoked portion of cut bangus with a distinct peppery and vinegar taste and fried to a golden crisp.

Breakfast Crispy Bangus
Jollibee's Crispy Bangus comes in two variants namely, After Breakfast Crispy Bangus and the Breakfast Crispy Bangus. The former is served with plain rice and slices of tomato. You have the option to choose whether you want a one-piece bangus (at 62 pesos) or a two-piece bangus (99 pesos). You may order it also as a value meal which is priced at 72 pesos (one-piece) and 109 pesos (two-piece).
As for the Breakfast Crispy Bangus, it comes with garlic rice, a slice of tomato and a fried egg. Solo breakfast Crispy Bangus is available for only 64 pesos, while the value meal breakfast Crispy Bangus with your choice of drink is priced at 74 pesos. This one is offered only up to 11am while the All-day Crispy Bangus is available from 11am onwards.